Today, July 31st until noon, is that last chance to vote for the Florida Highway Patrol in the Annual American Association of State Troopers (AAST) "Best Looking Cruiser" contest. They're competing with agencies across the nation who have submitted pictures representative of their state and vie for the opportunity to win the vote and be named best-looking cruiser.
The winning cruiser will serve as the cover vehicle for the 2024 AAST wall calendar, whose proceeds benefit the AAST Foundation, which provides educational scholarships to dependents of member troopers.
This year's submission, photographed by retired FHP Lieutenant Jeff Frost at Gatorland in Orlando, features a 2019 Dodge Charger in FHP's traditional colors of black and tan. Since 1939 FHP has been synonymous with black and tan, in uniform and vehicle.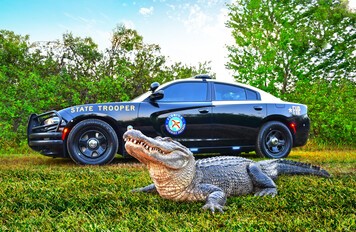 "Entering 'America's Best Looking Cruiser Contest' is an opportunity for FHP and the community we protect to stand proudly behind our public safety mission and Florida's reputation as a law-and-order state," said Florida Department of Highway Safety and Motor Vehicles (FLHSMV) Executive Director Dave Kerner. "The FHP Black and Tan, as it's known, is widely recognized as a symbol of our core values: Courtesy, Service Protection. When people see a Florida State Trooper, they know that they are there for protection and can expect professional and competent service. A vote for FHP is a vote for Florida."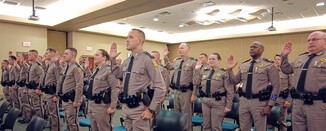 FHP troopers have sworn an oath to protect and defend the state and its residents while abiding by a code of ethics that has earned them the nickname "Florida's Finest." Troopers, known for their response to crashes and traffic enforcement efforts, also commonly assist in times of crisis, such as weather-related welfare checks and clean-up, emergency response, and interdiction efforts to deter and prevent dangerous narcotics, weapons, and undocumented illegal immigrants from entering our state.
"The iconic Florida Highway Patrol Black & Tan is recognized nationwide," said Florida Highway Patrol Colonel Gary Howze II. "Show your support for your Troopers by voting for Florida in the 2023 'American's Best Looking Cruiser Contest' hosted by the American Association of State Troopers."
To read more about the competition and to place your vote, visit https://www.flhsmv.gov/vote-fhp/ . To directly vote for 2023 Best Looking Cruiser visit, https://www.surveymonkey.com/r/bestlookingcruiser2023 and remember to VOTE FHP!